The Colors of Christmas
This song can be found on the CD "God's Gift of Love".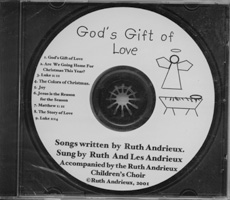 he colors of Christmas are red, green and gold, A story these colors have told. The red is the blood of the Lord Jesus Christ, For me paid the ultimate price. The green is the new life He gives to us all, because of a cross that stood tall. The gold is thelove that he has for us all, displayed in that manger stall.
REFRAIN: Colors of Christmas are red, and green and gold. These have a story of love, I am told. Red is for the blood He shed, Green the life He gives, Gold is the color of love, He His showed us how to live!
İRuth E. Andrieux, 2001