I'm Walking in His Footsteps
This song can be found on the CD "In The Beginning God".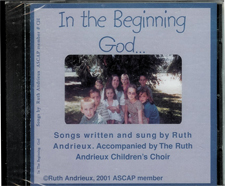 'm walking in His foot steps Oh, what O what joy! Talking to my Father up above. Learning of His Love, My home's up above O walking everyday in His joy! I may never go to Palestine, But I can walk His foot steps all the time! I'll let Him dwell within, He'll take away my sin, I'm talking to my Father all the time.
ęcopyright by Ruth Andrieux, 2001